Email aux participants

La Fondation d'entreprise Ricard (Paris) consacre une exposition au Pavillon pour fêter son dixième anniversaire. Ange Leccia et Christian Merlhiot, les créateurs et porteurs de ce laboratoire dédié à la création plastique contemporaine, m'ont confié sa conception.

Pour cette mission, au lieu de définir des règles, un thème, un jeu, un mode d'accrochage, un médium privilégié, une architecture, etc., j'ai cherché au contraire à préserver la liberté de chacun, et à mettre en avant son action : celle des artistes invités à montrer leur travail dans une exposition collective incluant un nombre exceptionnellement important de participants, celle d'Ange Leccia et Christian Merlhiot qui ont mis entre mes mains une partie de l'histoire du Pavillon, la mienne, qui suis associé à cette histoire après-coup.

Je souhaite que cette volonté se manifeste dans les deux réseaux de relations produits par les œuvres présentées : dans le rapport que les œuvres entretiendront les unes avec les autres d'une part, et dans leur rapport avec le public d'autre part. Une particularité de cette exposition est que les cent résidents du Pavillon des dix dernières années ne sont pas tous des artistes plasticiens et n'exposent pas tous d'œuvres.

Pour constituer ces relations, rassembler les très nombreux travaux dans l'espace neutre de la Fondation d'entreprise Ricard risque d'être normatif, l'accumulation de travaux appauvrissante. Les salles ne permettront pas au public d'avoir une perception spécifique de cent propositions singulières. Il sera également difficile de présenter les projets si la miniaturisation des productions ou leur superposition n'est pas le résultat d'une décision, mais l'effet d'une contrainte.

À la place d'un accrochage à la Fondation, j'ai invité les participants à montrer ou remontrer un travail, une intervention, dans le lieu ou sur le support de leur choix, par exemple dans l'espace urbain, dans la presse, sur internet, dans un espace privé accessible au public, sur un t-shirt, avec un haut-parleur, un téléphone, un écran, etc. À l'intérieur de limites qui sont donc essentiellement d'ordre temporel, le temps de l'exposition. Quelques œuvres pourraient même être isolées géographiquement, loin de Paris, exposées et invisibles.

Il ne s'agit pas d'énumérer tous les espaces possibles où une œuvre peut être vue, mais de montrer comment l'environnement investi par le travail rend sa présence/son action pertinente. Le titre de la manifestation est « Ça & là », en anglais « This & There ». Il insiste sur le couple objet (ou action) et place, tout en jouant avec les expressions délibérément irrésolues « çà et là » et « ceci cela », en anglais « this and that » et « here and there ».

Hashem el Madani - Itinerary (2007), Thomas Hirschhorn et ses constructions temporaires dans l'espace public, Gianni Motti et ses « GM Assistant » qui parcourent le monde (1997), Boris Achour avec ses Actions-peu (1993-1997), Marylène Negro avec ses emballages de produits alimentaires (Très bon - bon - acceptable - insuffisant - très insuffisant, 1992), General Idea avec leurs affichages « Aids » (années 1980), Jiri Kovanda avec ses installations miniatures dans l'espace public (Une petite boîte pleine de fleurs de rhododendrons secs rouges, une autre pleine de fleurs de rhododendrons secs blanches, 1981), Lotty Rosenfeld avec ses «Art Actions» (Crosses marked over the Panamerican Highway, Chile, 1981), Stephen Shore avec la mise en circulation de cartes postales autoproduites, Gordon Matta-Clark avec son Fresh Air Cart (1972), Mierle Laderman Ukeles avec Maintenance Art! (1969), Roelof Louw avec ses 20 Wedge Shaped Cast-Iron Blocks (1969), Robert Barry avec Closed Gallery Piece (1969), Lee Lozano avec General Strike Piece (1969), Daniel Buren avec ses affichages sauvages (fin 1960), Jan Dibbets avec son geste du pouce les 9, 12 et 30 mai 1969, etc.



Concrètement, « Ça & là » consistera en un dialogue d'interventions et d'actions continues et discontinues à voir/percevoir dans différents environnements, du 10 avril au 21 mai 2012.





La publication présentera uniquement des photos in situ et leurs légendes (pas de texte pour résumer le propos des artistes). Pour préserver une cohérence iconographique, indispensable pour appréhender les travaux participant à l'exposition dans leur diversité, je prends, lorsque c'est possible, les photographies moi-même. Ces images constituent en quelque sorte les introductions du commissaire d'exposition aux travaux présentés.
Email to the participants

The Fondation d'entreprise Ricard (Paris) hosts an exhibition to celebrate the tenth anniversary of the Pavillon. Ange Leccia and Christian Merlhiot, creators and leaders of this laboratory dedicated to contemporary visual arts, have invited me to curate it.

For this mission, rather than defining rules, a theme, an architecture, a spatial design, a method of installation or a privileged medium, I have sought to preserve the freedom of each of the invited artists — and those associated — and to highlight their action:
- that of the former residents, invited to show their work in a group exhibition with an unusually large number of participants;
- that of Ange Leccia and Christian Merlhiot who have entrusted me, for this tenth anniversary, with the task of rendering a part of the Pavilion's history;
- my own, as an actor who is retroactively associated with this history.

I aim to make this intention visible through the two type of relationships induced by the works presented. On one hand, the relationships of the works between themselves, and on the other, with the public. A special feature of this project is that the one hundred residents who stayed at the Pavillon over these last ten years do not all have a material production as such.

To create these two networks, I was concerned that bringing together a very large number of works in the neutral space of the Fondation d'entreprise Ricard might end up being too normative, that the accumulation of works would result in the impoverishment of all. Moreover the concentration would not allow the public to experience each proposition individually. And for those artists who are not interested in miniaturization, superposition, or dispersion, it will be difficult to work...

Instead of a presentation within the Foundation itself, I have invited the participants to show an existing work or a creation, to make an intervention in the space and media of their choice, for example in the urban space, in the press, on the web, in a private flat which the public could access, on a t-shirt, with a loudspeaker, by phone, on a screen, etc. within the limits that are mainly time related, ie. the duration of the exhibition. A certain number of geographically isolated works, exhibited but invisible, outside of Paris and further afield — participate in the global conception of the exhibition and contribute to its relevance as a whole.

The intention here is not to list all the possible spaces where a work can be seen, but to show how the environment invested by the work makes its action pertinent. The title of the exhibition is 'This & There'. It focuses on the pairing of object (or action) and place. It also plays upon two common and voluntarily imprecise expressions 'This and that' and 'Here and there'.

This exhibition furthers the investigations of artists, critics, and curators about the place for art in the figurative sense, through its placement in the literal sense. Creating a work for a specific space or context seems to provoke a stronger sensitivity to art and to its surroundings...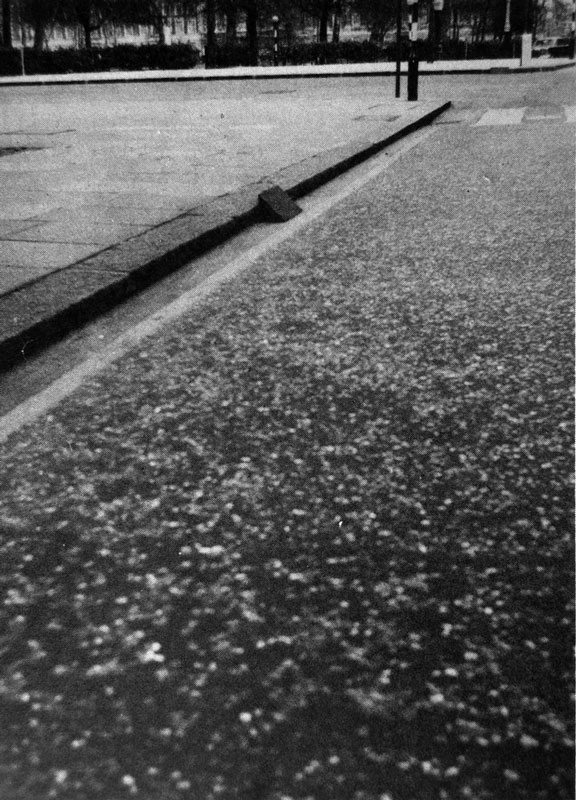 Interesting projects have been developed by organizations such as Site (Santa Fe, and their recent exhibition 'March 2012', in homage to Seth Siegelaub 'March 1969'), La Galerie Extérieure (Paris, since 2006), Artangel (London, since 1992), the Museum in Progress (Vienne, since 1990), the Galerie 1-37 (Paris, 1972), movements like Fluxus, the International Situationiste, Gutai, Dada at the Cabaret Voltaire, and many artists such as Akram Zaatari with Hashem el Madani - Itinerary (2007), Thomas Hirschhorn and his temporary constructions in public spaces, Gianni Motti and his 'GM Assistant' who travel the world (1997), Boris Achour and his Actions-peu (1993-1997), Marylene Negro and her food wrapping (Very Good - Good - Good Enough - Not Good Enough - Not Good At All, 1992), General Idea and their 'Aids' billboards (1980s), Jiri Kovanda and his tiny installations in the city (A small box full of dried red rhododendrons, another full of dried white rhododendrons, 1981), Lotty Rosenfeld and her 'Art Actions' (Crosses marked over the Panamerican Highway, Chile, 1981), Stephen Shore distributing self-produced post cards in local shops, Gordon Matta-Clark and his Fresh Air Cart (1972), Mierle Laderman Ukeles with Maintenance Art! (1969), Roelof Louw with his 20 wedge shaped cast-iron blocks (1969), Robert Barry with Closed Gallery Piece (1969), Lee Lozano with General Strike Piece (1969), Daniel Buren with his stripe flyposting ('Affichages Sauvages', 1960s), Jan Dibbets with his thumb gesture on May 9, 12 and 30 in 1969, to mention but a few.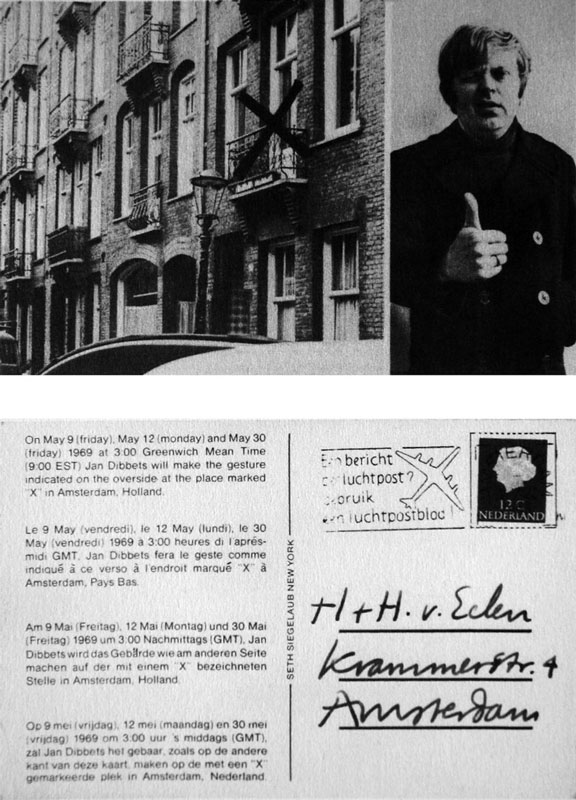 This is also a way to question habits and preconceptions, such as the immutable character of art pieces installed in a public space, and the authority that comes with it. Or, inversely, the (deliberate) concealment of the substance of time and the experience of art in events subordinated to communication and box-office imperatives.

Concretely, 'This & There' will confront works and interventions that can be seen/perceived in a continuous or discontinuous way, in many different contexts, from April 10 to May 21 2012.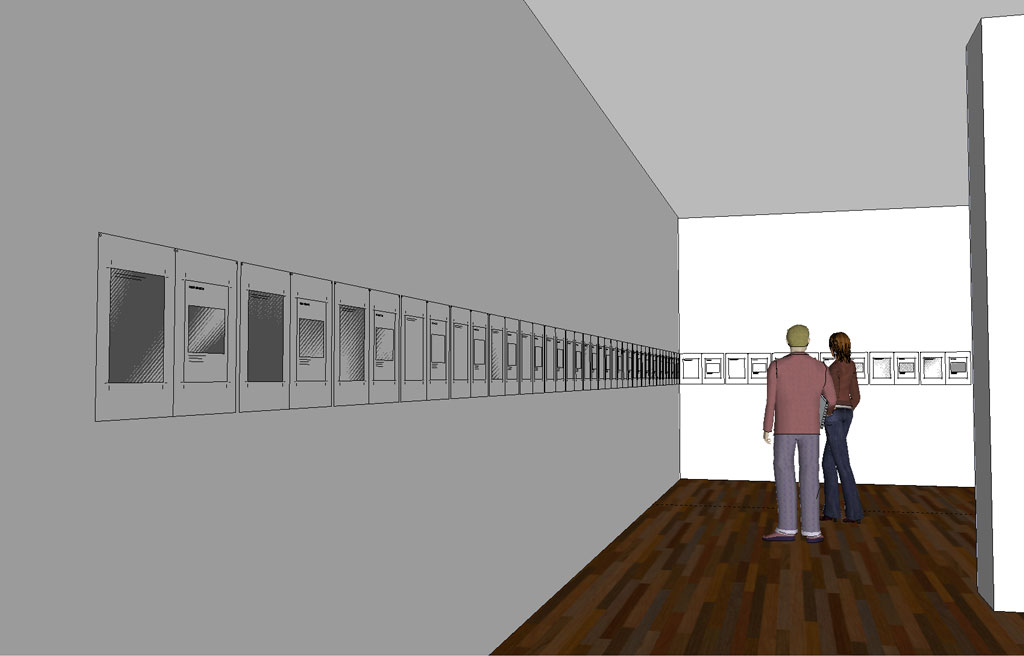 The layouts in preparation from the pages of the exhibition catalog, without images, will be pinned on the Foundation walls to provide the visitors with the useful information about the works along with their locations. A paper map will be distributed to the public. The addresses of the works will also be available via internet. Blogs, YouTube channels, Facebook walls, iPhone apps will not be used to publicize the show but these platforms are available for the participants who may wish to appropriate them.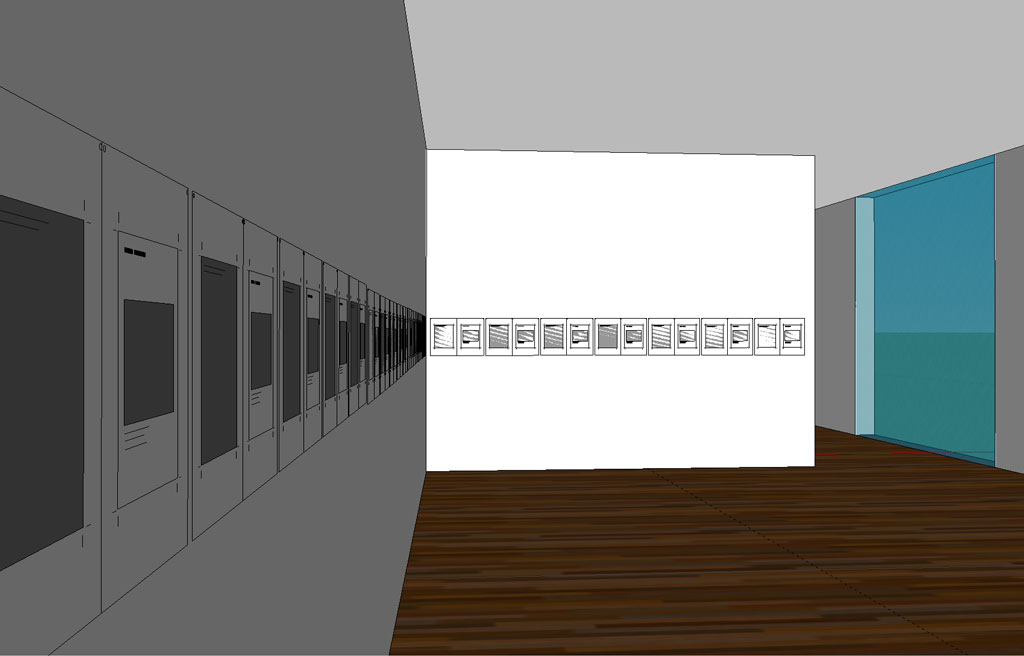 The publication will be released on May 21 2012, the last day of the exhibition. It will present each piece and the manifestation principle in a very simple way, by using the binary structure of the book: on one side of the page, a photograph of the space taken before the intervention; on the other side a photograph taken afterwards. As part of the 'bigger picture', photographs of the contexts in which the works are presented will be full page, edge-to-edge, bleed-out reproductions. As a point of view within this context, visual documentation of the works presented will be reproduced in smaller format, framed by the white margins of the page.

Only in-situ photographs with their captions will be reproduced. There will be no texts to resume the projects. To maintain a visual consistency, indispensable to understanding the diversity of the pieces involved in the exhibition, I have sought to take the photographs myself. In a sense, these images are my introductions as a curator to the works in the show.